An interesting article here on CBS news giving the 5 top reasons why you shouldn't get an MBA.
Just 5 reasons not to get an MBA. I can think of many more reasons not to get bogged down in years of boredom and debt. No surprise then, that Increasing Costs of education at MBA Schools was one of the top reasons, but I was encouraged to read the others.
It seems like people are really starting to get their heads round the futility of studying theories for years when they could be out there learning on the job.
The MBA is a great tool…for colleges, schools and universities to make lots of money with, but its practically useless to the student as soon as they walk out the school door…why?
Because MBA's are like belly buttons! Everybody has one, at least everyone who is going to be up against you if you are trying to use your MBA to get a top job. The MBA proves nothing about your understanding of business and of course while you've been in school you haven't been getting any experience.
Business is simple and MBA programs make it complicated. Its better to just get out there and make a noise, start your own micro business, hone your skills.
The other 4 reasons that CBS gives for not getting an MBA?
There are too many MBA's
MBA's have lost prestige
Employers aren't as interested
Pay is stagnant
For all of these reasons you need to forget spending years of your life and getting $000's in debt and just get out there and do it. At the very least you will be 5 years ahead of the pack.
There's a basic set of skills and knowledge that you will need here then its up to you to apply that and learn everyday by doing.
You can read the full CBS article here
But before you go, here's how you can get all of the teaching about business you'll ever need for $10: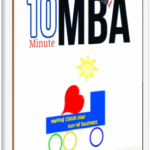 the 10 Minute MBA
The 10 Minute MBA aims to be the single biggest influence in your business success. Written by John Quinn, the founder of the 10minute MBA this eBook reveals a simple formula that will burn an image in your brain allowing you to deal with any business situation regardless of the scale of the challenge you face.
Photo thanks to: EOI Escuela de Organización Industrial via Compfight